What are Picture Frame Points?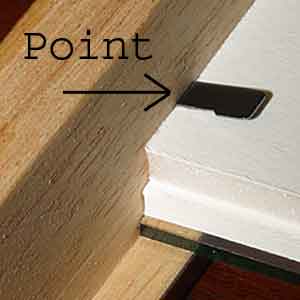 Points are used to hold the mat, mount board and glass or acrylic inside the wood picture frame moulding. We manufacture our picture frames with flexible points. Flexible points can be bent up and down to allow the contents to be temporarily removed from the frame. If you would like us to insert points in your wood moulding you need to let us know how much room to leave for the contents of your picture frame.
Typical thickness:
Glass 1/8 inch
Acrylic 1/8 inch
Regular Mat 1/16
8-ply Mat 1/8
Foamboard 1/8 or 3/16
For example:
Glass + Alphamat + 3/16 foam = 3/8 inch points
How to Order a Frame with Points
When ordering your custom frame, you may see several options regarding points. Understanding the options are critical to selecting the right frame format and fit for your needs.
"Fit Contents Ordered" – Select this if you are ordering everything that will go in the picture frame (mat, backing, glass or acrylic) from us. We will place the points exactly where they need to go to hold everything.
"1/8" to 1" depth" — Select this ONLY if you are adding something to the frame besides a print such as Glass or Gatorboard. For example if you are buying a frame from us with just 3/16" footboard and a 4-ply mat but NO glass because you already have your own glass to put in the frame you would select 3/8" inch depth for the points. 4-ply mat (1/16" inch) + 3/16" foam + 1/8" glass equals 3/8". If you selected fit contents ordered we would put the points in behind the mat and foam and there would not be any room left for the glass. Typical thickness of framing components sold by Frame Destination:
Glass 1/8 inch
Acrylic 1/8 inch
Regular Mat 1/16
8-ply Mat 1/8
Foamboard 1/8 or 3/16
"No Points" — Select this if you have the ability and desire to install the points yourself.
If you are placing additional items in the picture frame you are not buying from us, then select the depth to match the total thickness of what you will be adding to the picture frame and everything you are buying from us for the frame. You can leave additional directions in the special instructions of the checkout page for additional clarification. If unsure, please email or call us.