Our Purpose:
To inspire, honor and showcase creativity.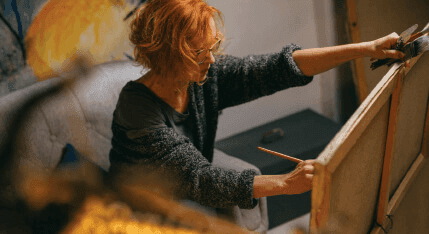 Our Promise:
Advocacy for Artists.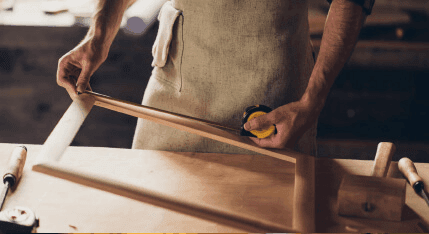 Inspiring Your Creativity...
...with professional artist tips, industry insights, DIY guides, how-to videos, and fun stuff from Artie the Panda.

Honoring Your Creativity...
...through art scholarships, Club and VIP discounts, and tailored tools like our GalleryPouch™ art transport wraps.

Showcasing Your Creativity...
...via artist spotlights, social media features, and high-quality framing products that beautifully present your art to the world.
Behind The Frame:
Mark and Joely Rogers share their story, the inception, innovations and intent of Frame Destination.
Our History
In the early 2000s, once-amateur photographer Mark Rogers was frustrated. He couldn't find the frames to fit the photographs he had so carefully taken and printed in his home studio — and even when he did find frames that fit, they weren't the archival quality he wanted.
Having grown tired of ordering frames from shops that couldn't accommodate his needs, Mark founded Frame Destination , an online picture framing company, out of his home in Dallas, Texas, in 2004. After one year, the addition of Joely Rogers to the business, and much success, he was able to move the business out of his home and into Frame Destination's current production facility. The move facilitated the company's ability to broaden its product line, including the introduction of the
GalleryPouch™ bubble bag.
The bubble bag, an innovation of photographer, author and consultant Andrew Darlow, was created in 2009 by Frame Destination to assist photographers and homeowners needing to pack and transport their artwork safely and easily.
Under Mark's leadership, Frame Destination has become one of the leading Internet-based sellers of picture frames and do-it-yourself framing supplies for professional and amateur photographers, scrapbooking enthusiasts, and even the average homeowner. Our production team handles and ships all of our wood and metal picture frames and supplies directly from our facility in Texas, guaranteeing that your product is of the highest possible quality. We are so confident that our products will exceed your expectations that we offer a money-back guarantee. The company and its close-knit team truly care about the work they do — and the artwork that you want to frame — which ensures that every Frame Destination picture frame is a place your art can call home for years to come.

Our FBF
Artie the Panda, ally to artists everywhere! He's here to inspire, educate, and help you present your artwork in the most impactful way.
As our FBF — Framer's Best Friend — Artie has a heart for harmony, integrity, artistic adventure, and great deals. Like other artists, photographers, and creatives, he's also fanatical about artfully designed and high-quality frames. He's traveled the world and discovered impressive, hand-made frames for his own art right here in the USA at Frame Destination and now joins our team.
Artie is smart, honest, and creative. You can often find him behind a lens or in front of a canvas. Artie brings insight and delight to everyone in the creative community. Like you, Artie enjoys expressing himself, and not in conventional ways. Did you know that giant pandas communicate more creatively than any other bear species? They don't roar like other bears, but instead bleat like goats. They also honk, growl and bark to get their point across. (We can all relate to that on some days.)
Unlike other bears, Artie doesn't hibernate, which means he likes to keep busy. He's traveled the world and collaborated with fascinating artists and adventurers (two in particular who bestowed on Artie their favorite beret and scarf.) When he's not on his artistic mission, Artie loves climbing, snoozing, and he can put away the bamboo. It's like chips and queso, pretty irresistible. But there's more to life than hanging out and snacking. As an artist — he's shares a birthday month with Andy Warhol, Viola Frey, Martha Alf, Man Ray, and Henri Cartier-Bresson by the way — he must live life to the fullest.
Artie gives, you receive.
Speaking of living it up, our new friend prefers never to show up to a party empty-handed. That's why Artie spreads good fortune everywhere he goes with special offers, educational tips, fun facts, stories of his own adventures with artists like you, and more. He loves supporting fellow framers on their journey to share their message with the world, even if it's just their friends and family. And it's easy for Artie to recognize the link between quality work, quality products, and quality experiences at Frame Destination.
Subscribe to the Frame Destination newsletter and follow Artie on our Facebook, Instagram, Twitter and Pinterest pages so you never miss a deal!
What We Offer
Check out our framing products!
Complete picture frames, including mount board, mat board, glazing, and hanging kit
Ready-made picture frames, archival and standard
Empty picture frames, metal and wood
Framing materials: mat board, mount board, glass or acrylic glazing
Storage materials: photo boxes, and GalleryPouch™ bubble bags
Cleaning supplies: acrylic cleaner and microfiber towels
Protection supplies: gloves, corner protectors, and dust covers
And much more!
---
Frame Destination Features
See where we've been mentioned!
Entrepreneur,
"The Weekend Entrepreneur" article
"Weekend Entrepreneur"
book, Michelle Anton and Jennifer Basye Sander
Today,
"Why you should never use Windex to clean picture frames," Karen B. Gibbs
PetaPixel,
"Digital Photo Printing: 10 Years After," Harald Johnson