Glam Decor Style: A Complete Guide
Essence of Elegance
Over-the-top opulence isn't anything new. When you consider the Taj Mahal, the Biltmore Estate, and assorted castles throughout Europe, you realize humans have been enamored with sumptuous luxury through the ages. These days, Glam Decor can be a style "umbrella" that includes subcategories such as Timeless Glamour, Vintage Glamour, Farmhouse Glam, Earthy Glam, Art Deco, Micro-Luxury, and Hollywood Regency. For our purposes, we'll look at Glam Decor as it leans toward either minimalist and contemporary or intricate and traditional.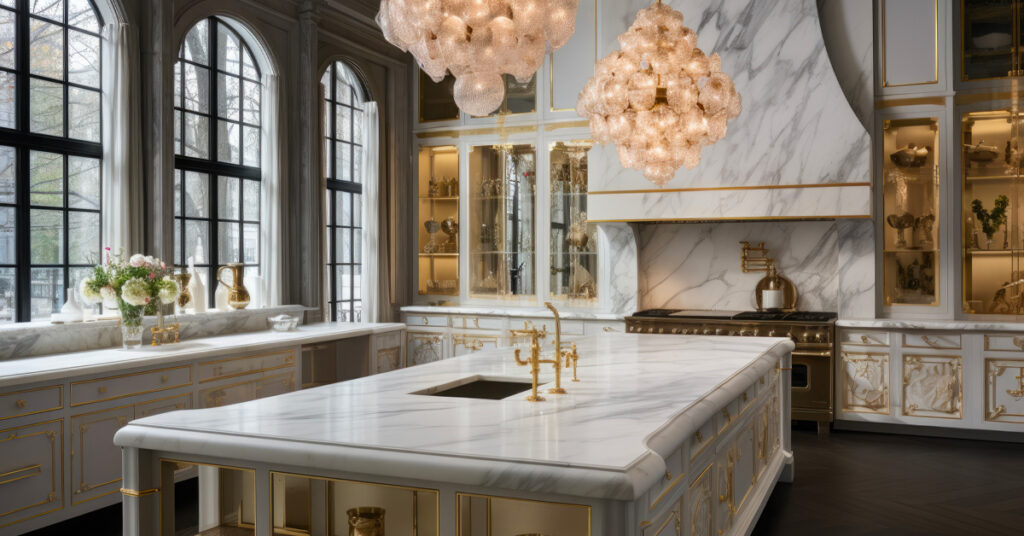 Where Did Glam Decor Originate?
The pedigree of this interior design style goes back to the Golden Age of Hollywood, a period stretching from the 1920s through the 1960s. As movies became the go-to form of entertainment, Hollywood celebrities became icons of style and refinement, and designers were inspired to bring silver screen elegance into the home. William Haines, considered by many to be the father of Glam Decor's predecessor, Hollywood Regency, embellished the homes of his Hollywood actress friends using neoclassical elements, rich textiles, tufted seating, and oversized sculptures. Dorothy Draper also contributed to this movement with her bold, feminine color palettes, large botanical prints, and twists on old classics.
Who Does Glam Decor Appeal To?
Glam Decor skews feminine, but anyone who enjoys making a statement will appreciate the possibilities of this style. If you like the finer things in life and the art of hospitality, you may be especially drawn to Glam Decor. Your take on this vibe can be modern, vintage, eclectic, or romantic — so long as it's sophisticated.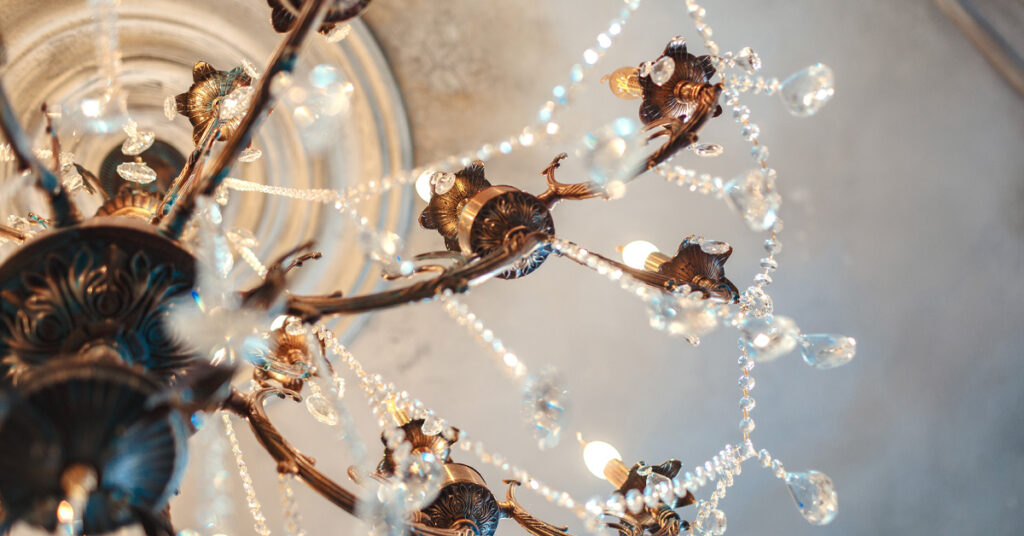 Quiet or Bold, Luxury Prevails
What should you look for when designing a room in Glam Decor? Here are a few ideas to get you started.
Metallic touches in warm tones, including brass and rose or yellow gold
Lavish fabrics like velvet, silk, satin, and faux fur
Tufted sofas, ottomans, benches, and headboards
Mirrored surfaces to reflect light and make a room feel more spacious
Color palettes that emphasize neutrals, pastels, or deep jewel tones — sometimes paired with classic black-and-white
Intricate details, such as fabric patterns, wallpaper, marble veining, and ornate furniture or lighting
High-gloss finishes
Neoclassical or Art Deco motifs
Furniture trimmed with metal studs
Statement sculptures and artwork showcased in glimmery gold or bronze frames
Dramatic lighting: crystal chandeliers, pendants, sconces, and stunning lamps
Glam Decor Style, Room by Room
There's almost no such thing as being too extravagant with this decor style. In fact, exorbitance is the point! Even when understated, aim for sparkle, shine, and luxury.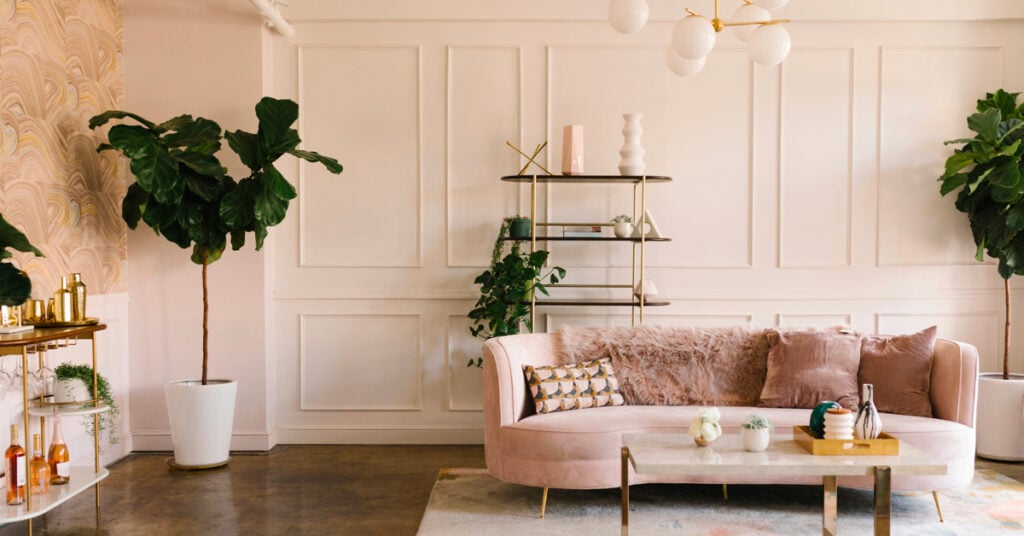 In Your Living Room
Here, your design goal is to create a welcoming, comfortable room — but intentional, not "lived in." Invite guests to relax on the pastel velvet sofa, tufted or channeled, which is the contemporary cousin of tufted with straight vertical lines along the back cushion. Wainscoting painted a soft ivory visually opens a room; statement art can be oil paintings in metallic-finish wood frames or bold wallpaper on a feature wall. Go for the gleam with a variety of reflective elements: a marble coffee table with gold or brass legs; overhead lighting that shimmers with contemporary chic or ornate vintage style; and a bar cart in the corner displaying crystal decanters and gilded wine glasses, setting a heavenly hospitality scene.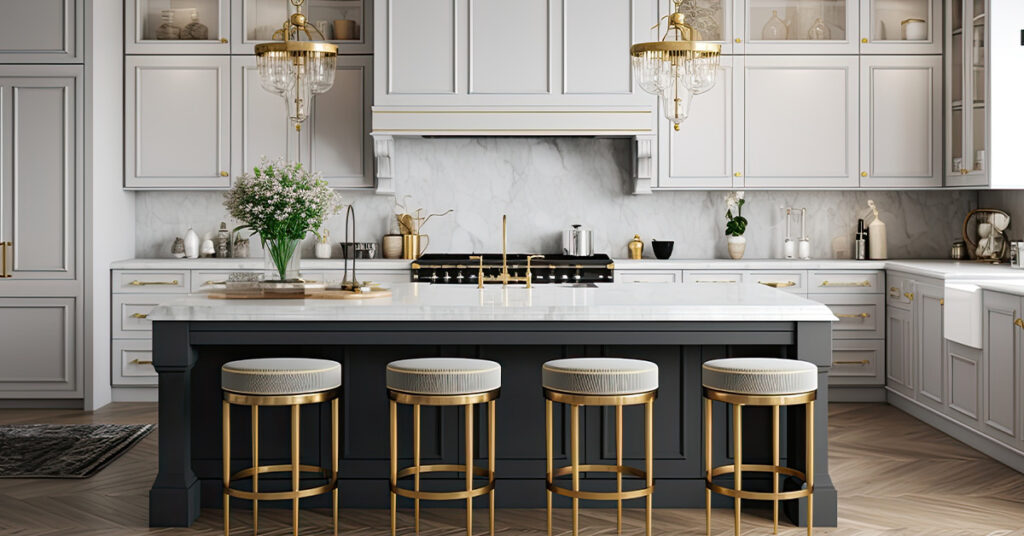 In Your Kitchen
If ever a kitchen deserves to be chef-worthy, a Glam Decor kitchen is it. Now's your excuse to get that French range you've yearned for. Custom cabinetry can veer toward contemporary or traditional. Marble (or more affordable granite) countertops with a double ogee edge on the island bring a timeless profile into view, while waterfall countertops are more modern. Add a row of chic bar stools upholstered in velvet, leather, or faux fur — supported by golden legs, of course. Other gold or brass touches reign supreme as door pulls, kitchen faucet, and distinct pendant lighting.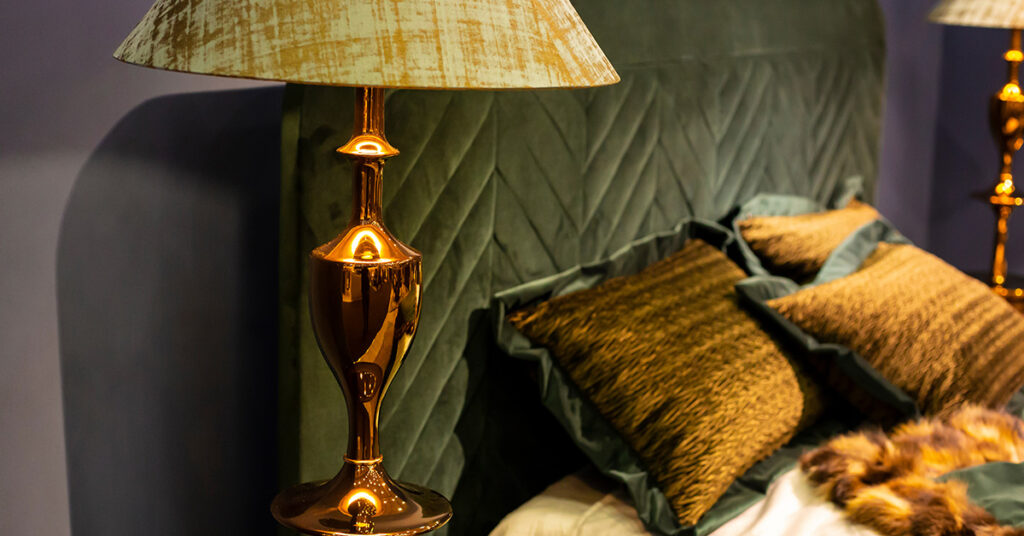 In Your Bedroom
Whether your preferred aesthetic is simple and minimalist or full-on splendor, a Glam Decor bedroom is a calming but chic retreat from the everyday. For the bedding, go with layers of neutral colors in a mix of textures, or choose one or two jewel tones and max them out. An oversized headboard in rich tufted velvet works well here. Choose bedside tables in marble, glass, or mirrored surfaces. Other sophisticated furnishings can include a tufted settee, velvet bench, and sculptural vanity table with oversized mirror. Animal print pillow in the vanity chair? Feather chandelier? Yes, please! Statement lamps light your bedtime reading in bold brass or gold — with soft lighting for lulling you into the perfect night's rest.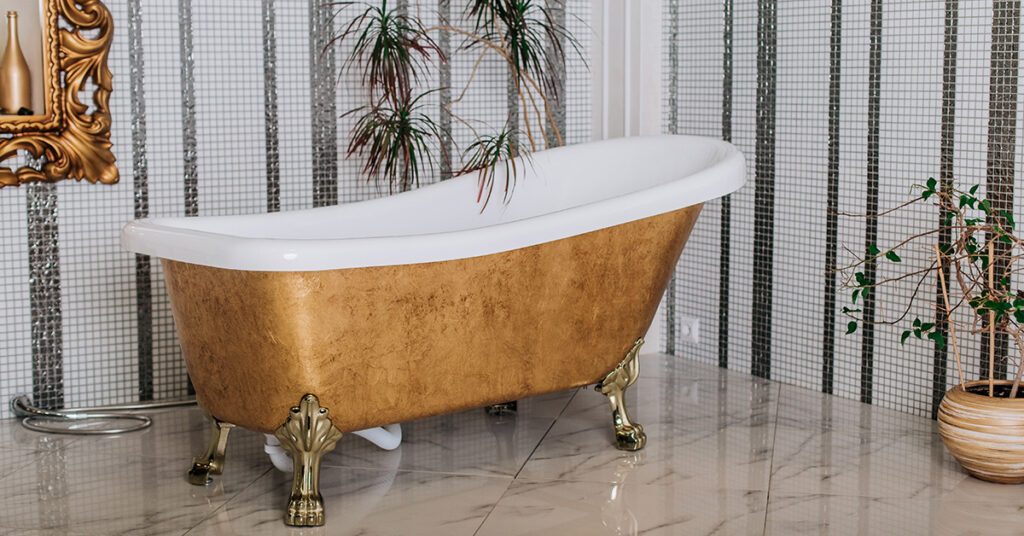 In Your Bathroom
You don't have to be jetting off to a wellness retreat in the French Riviera to enjoy spa vibes at home. Your Glam Decor bathroom can transport you with equal ambiance, starting with metallic touches — gold etagere, gilded framed mirror, bronze sconces — that create a wow factor even in a smaller bathroom. A freestanding bathtub exudes grandeur, especially one that glimmers. Classic black-and-white can be worked into the floor, walls, or both. Of course, we never tire of marble in a Glam Decor bathroom.
Find Your Inner Jet-Setter
We hope these suggestions help you to feel as poised and confident as a Hollywood mega-star walking the red carpet at the Oscars. As you can see, it's easy to create a Glam Decor home that's as understated or over-the-top as you please, based on your unique taste.
P.S. Check out Grandmillennial Design Style, another decor trend with roots in nostalgia and intricacy.
Last updated November 14, 2023